Benito Ramos
T'zun-Wit'z
FIELD BLEND - WASHED
Guatemala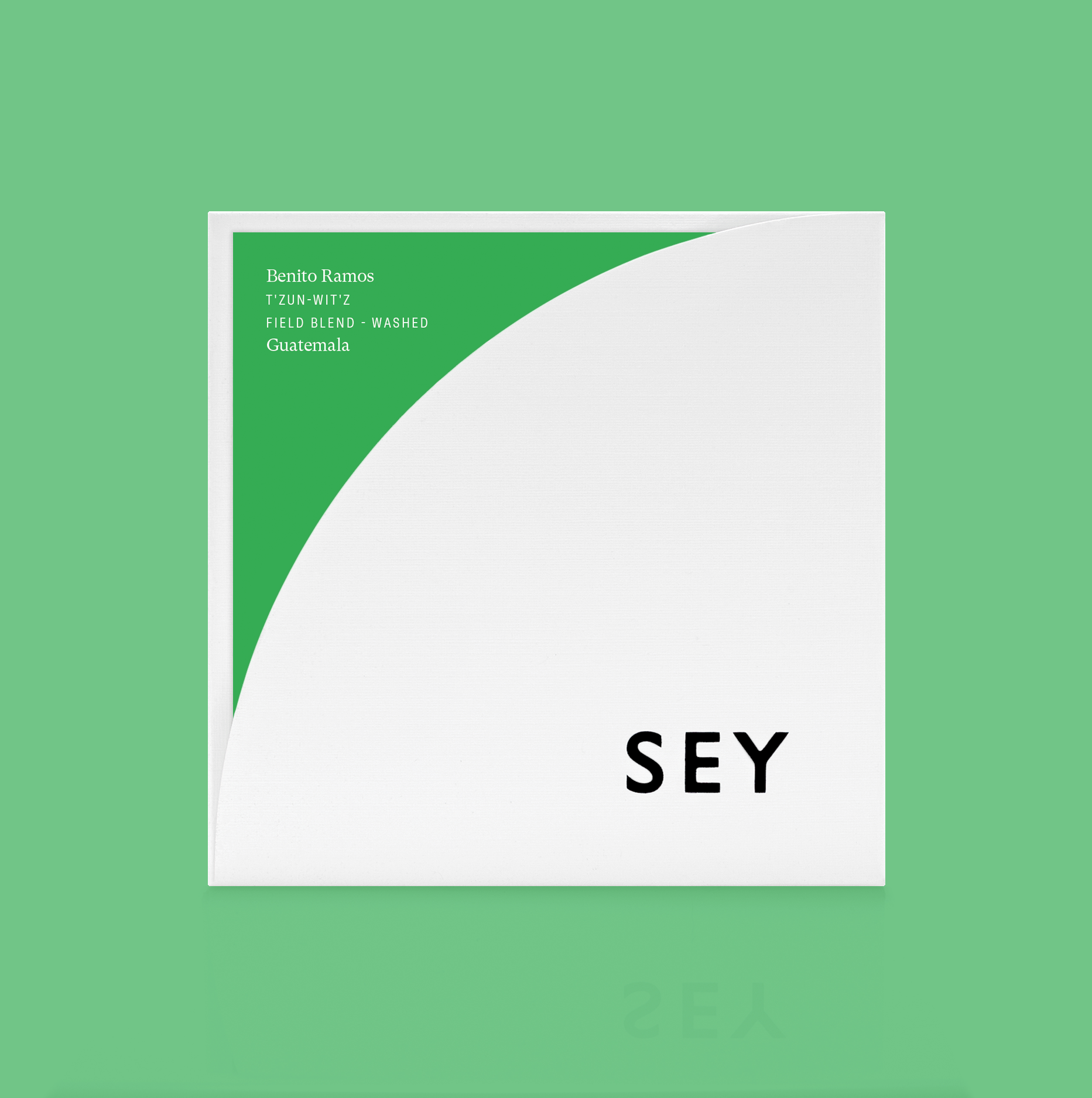 Benito Ramos
T'zun-Wit'z
FIELD BLEND - WASHED
Guatemala
We are very excited to again offer a coffee from Guatemala! This selection from Benito Ramos is a very clean representation of Huehuetenago terroir. In the cup we find apple, a raspberry vanilla—almost floral—quality, and a long caramel chocolate sweetness.
VARIETAL
Bourbon & Caturra
REGION
Concepción Huista, Huehuetenango
PROCESSING
Hand picked at peak ripeness. Floated to further remove defects and depulped on the day of harvest. Fermented in water for 36 hours. Soaked for an additional 12 hours in fresh water. Dried on patios for 6 days.
ABOUT BENITO RAMOS
Guatemala was once one of our main origins for sourcing coffees. In the last few years, due mainly to factors attributed to climate change and the increase of mining in coffee producing regions, Guatemala has become an increasingly difficult place to source coffees from. Over the last few years we've continued trying to find meaningful ways of working in this country, and this is finally a little fruit for those efforts. Benito Ramos is a second-generation coffee producer. His farm's name, T'zun-Wit'z, comes from the local indigenous language of Popti and translates to "birth of the hill". Due to the COVID pandemic, we were unable to do any traveling this past year, but we were able to find this remarkable coffee with the help of our importing partners Primavera. We're very much hoping to travel back to Guatemala soon!
ABOUT BOURBON
Bourbon is the most famous of the Bourbon-descended varieties. It is a tall variety characterized by relatively low production and excellent cup quality, but is susceptible to all the major coffee plant diseases. In the early 1700's French missionaries carried Bourbon from Yemen to Bourbon Island (now Réunion), giving it the name it has today. The variety spread to other parts of the world beginning in the mid-1800's as the missionaries moved to establish footholds in Africa and the Americas. Today, in Latin America, Bourbon has largely been replaced by varieties that descend from it—notably Caturra, Pacas, Catuai, and Mundo Novo—although Bourbon itself it is still cultivated in El Salvador, Guatemala, Honduras, and Peru.
ABOUT CATURRA
Caturra is a natural mutation of the Bourbon variety. It was discovered on a plantation in the state of Minas Gerais in Brazil sometime between 1915 and 1918. Today, it is one of the most economically important coffees in Central America, to the extent that it is often used as a benchmark against which new cultivars are tested. In Colombia, Caturra was thought to represent nearly half of the country's production before a government-sponsored program beginning in 2008 incentivized renovation of over three billion coffee trees with the leaf rust resistant Castillo variety (which has Caturra parentage).

Pricing Details
Farm Gate (Local)
1,450 GTQ/Quintal
Farm Gate (USD)
~$5.75/KG
FOB
$7.22/KG
FOT
$10.01/KG
The cost of getting a coffee from cherry to beverage varies enormously depending on its place of origin and the location of its consumption. The inclusion of price transparency is a starting point to inform broader conversation around the true costs of production and the sustainability of specialty coffee as a whole.