Faiber Cordoba
LOS NARANJOS
FIELD BLEND - WASHED
Colombia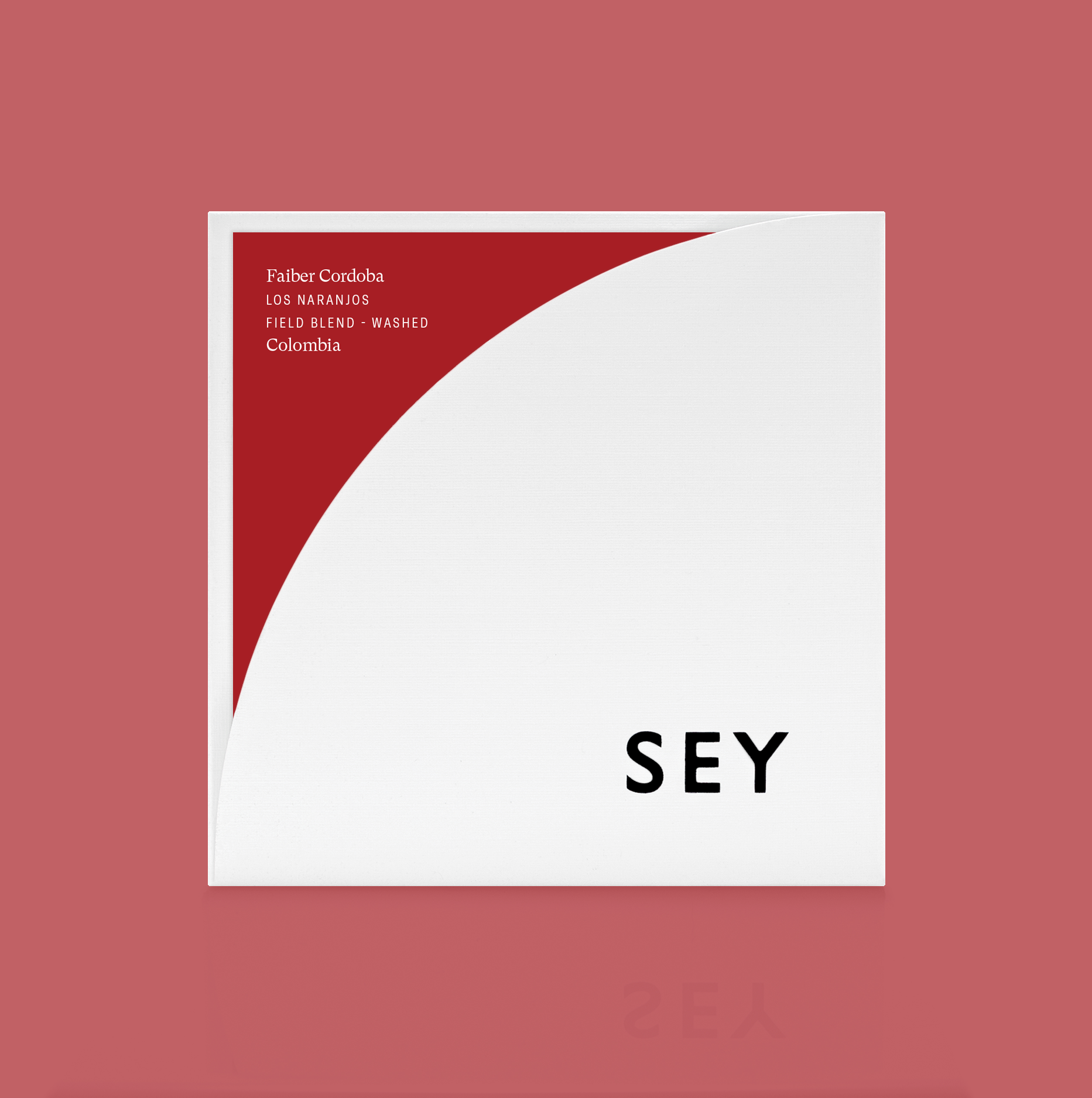 Faiber Cordoba
LOS NARANJOS
FIELD BLEND - WASHED
Colombia
This is our third year working with Faiber's coffee. He is an exceptionally talented young producer growing an impressive array of varieties. In the cup we find a fruit-forward profile, excellent sweetness and acidity, and notes of strawberry jam, Key lime, and blackberry.
VARIETAL
Yellow V. Colombia, Tabi, Pink Bourbon
REGION
El Tabor, San Agustín, Huila
PROCESSING
Hand-picked in three-week cycles to ensure peak ripeness. Floated to further remove defects. De-pulped on the day of harvest. Dry fermented for 36 hours. Washed and rinsed in fresh water four times. Dried on raised beds for ~25 days until moisture content reaches ~10.5%.
ABOUT FAIBER CORDOBA
Faiber is one of the growers that Esnaider Ortega and the Monkaaba project were the most excited to begin working with. Faiber grows a wide selection of very cool varieties, including Gesha, Tabi, Yellow Caturra, Typica, and Pink Bourbon. Most of these lots are very new, and volumes are extremely small, so lot separation hasn't been possible. However, we hope by the next main harvest we will see enough of an increase in yield to allow for further separations.
ABOUT PINK BOURBON
Pink Bourbon is a relatively new variety being grown primarily in and around Huila, Colombia. The variety has been identified genetically as an Ethiopian Landrace, but unfortunately, we cannot be any more specific as to its origins until there is a larger genetic database.
ABOUT TABI
Developed in 2002, Tabi is a newer hybrid to the scene. It is a cross between Bourbon, Typica, and Timor Hybrid, and the result of research to create a disease-resistant variety that maintains high cup quality potential. For this reason, it has quickly become our favorite hybrid variety.
ABOUT VARIETY COLOMBIA
Variety Colombia (V. Colombia) is the result of successful hybridization of Caturra with Timor Hybrid. Developed over five generations by Cenicafé between 1968 and 1982, V. Colombia is high-yielding and has excellent resistance to disease. This combination of traits makes V. Colombia a very popular variety in Colombia.

Pricing Details
Farm Gate (Local; Green)
3MM COP/Carga
Farm Gate (USD; Green)
~$7.70/KG
FOB
$8.19/KG
FOT
$12.77/KG
The cost of getting a coffee from cherry to beverage varies enormously depending on its place of origin and the location of its consumption. The inclusion of price transparency is a starting point to inform broader conversation around the true costs of production and the sustainability of specialty coffee as a whole.