Joselino Meneguetti
ALTO RANCHO DANTAS
CATUCAÍ 785 - WASHED
Brazil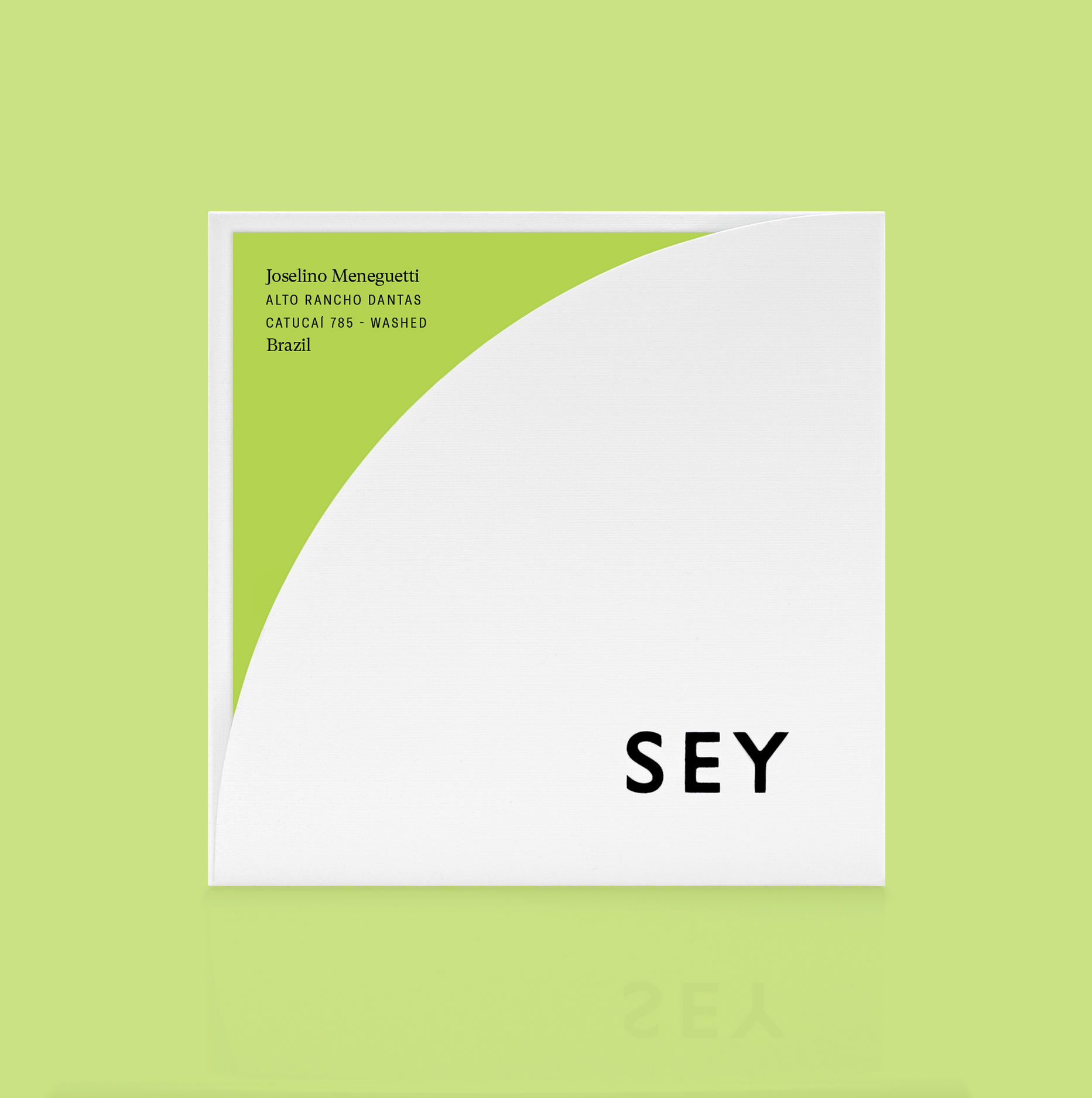 Joselino Meneguetti
ALTO RANCHO DANTAS
CATUCAÍ 785 - WASHED
Brazil
This will be our third lot from Joselino, who is quickly becoming one of our favorite producers. The coffee from this family has been consistently excellent, and a joy to work with. In the cup we find watermelon, lemon verbena, and grapefruit.
PROCESSING
Hand picked at peak ripeness. Floated to further remove defects and depulped on day of harvest. Wet fermented in tile tanks for 12-14 hours. Dried for 15-20 days on raised beds in a covered structure that is open air during the day and closed at night.
ABOUT JOSELINO MENEGUETTI
This is our second year working with Joselino. This year his coffee placed third in the Best of Espírito Santo regional competition. A third-generation producer from the mountains of Espírito Santo, Joselino has spent his entire life carefully monitoring the benefits and shortcomings of his particular microclimate and terroir. When he officially took charge in 2010, he implemented drastic measures to improve the quality of his crop; replanting the entire farm with a new variety, introducing soil regeneration practices, initiating on-farm quality control measures to ensure final cup quality, and continually honing his harvest and processing methods. He has since established himself as one of the more respected and revered producers in his region.
ABOUT CATUCAÍ VERMEHLO 785
Catucaí Vermelho 785 is a progeny of Icatú Vermelho and Catuaí Vermelho, and within the Bourbon lineage. It is a small uniform plant with wavy-edged leaves, and bronze-hued new growth. It is high-yielding, produces large red fruit with a large sieve rating, and is both highly leaf-rust tolerant and remarkably stable in varied weather conditions. While generally an early-harvest plant, in certain climates fruit development begins early but slows significantly—a trait that has been utilized to extend fruit maturation and improve cup quality by some of the more astute producers in compatible regions.

Pricing Details
Farm Gate (Local)
64.50 BRL/KG
Farm Gate (USD)
~$12.17/KG
FOB
$11.56/KG
FOT
$13.21/KG
The cost of getting a coffee from cherry to beverage varies enormously depending on its place of origin and the location of its consumption. The inclusion of price transparency is a starting point to inform broader conversation around the true costs of production and the sustainability of specialty coffee as a whole.