Esnaider Ortega
LA ESPERANZA
SIDRA - WASHED
Colombia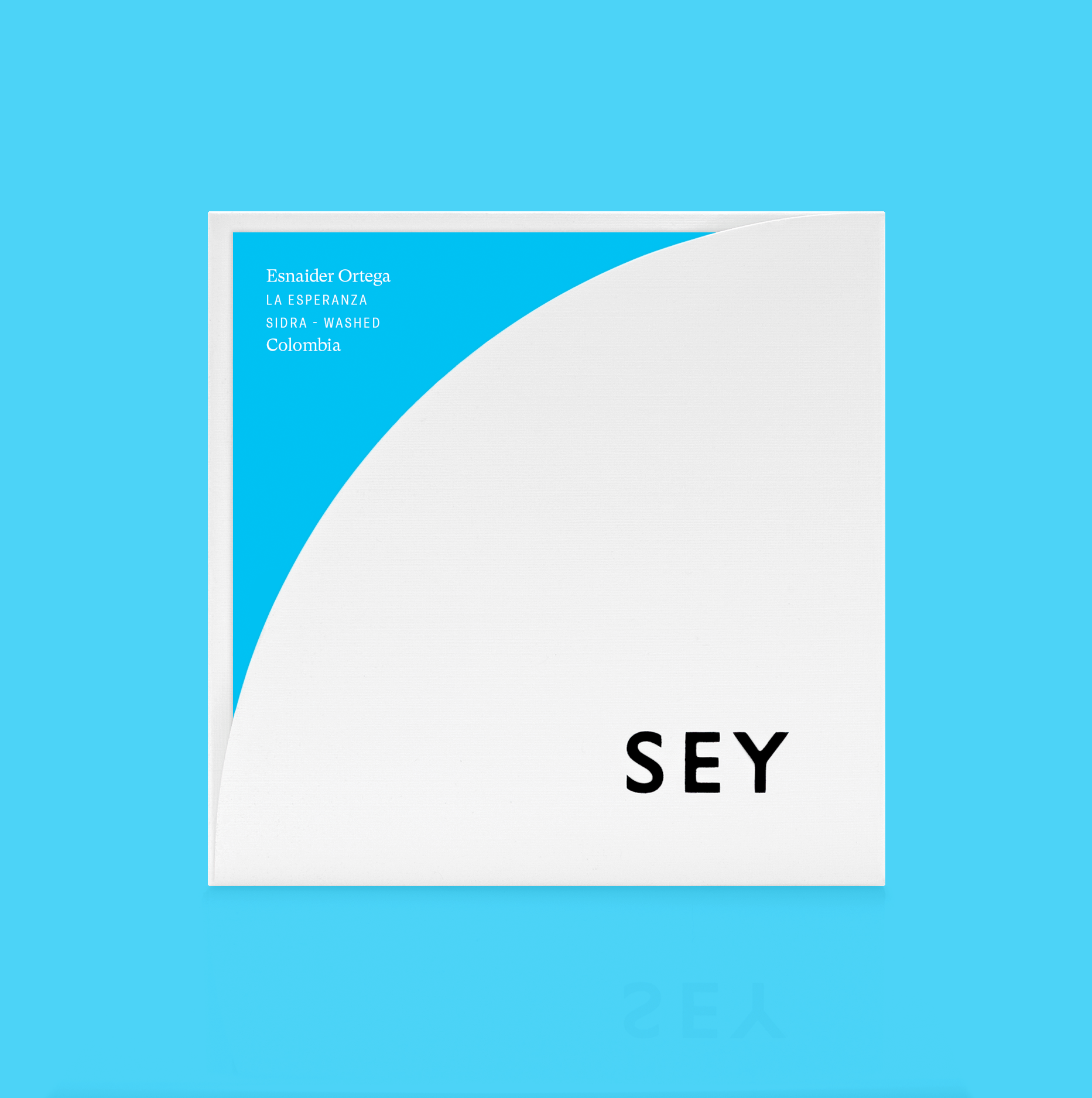 Esnaider Ortega
LA ESPERANZA
SIDRA - WASHED
Colombia
Having only 350 trees, this is one of the smallest gardens we buy coffee from. The attention to detail and dedication to quality Esnaider has for this lot is truly unique and special. In the cup we find a jam-like berry sweetness, a fresh lemon zest acidity, and a soft delicate florality.
Region
San Agustín, Huila
Processing
Hand picked at peak ripeness. Floated to remove defects, and hand sorted to further remove immature cherries. Placed on raised beds in full cherry to drain excess water. Depulped the following morning and dry fermented for 22 hours in oak tanks. Rinsed four times, then left in plastic bags to drain for eight hours. Dried under shade for 15 days, then moved to dry for an additional 5 days in more direct sun.
ABOUT ESNAIDER ORTEGA
Esnaider is a dear friend, and an amazing coffee producer. We are very excited to have his Sidra again this season. This lot is extremely small; grown, harvested, and processed with extreme care and attention to detail. This is our third year working with Esnaider and his family, and we are proud and honored to have the opportunity to roast and present their coffees.
"I am a fourth generation coffee producer. I am convinced that working with specialty coffee is the solution for the difficulty in Colombia since the quality of our coffee is reflected in a better quality of life. My family and I are a team, and we have been working with passion and dedication for more than 12 years to continue improving our quality."
ABOUT SIDRA
While we don't know exactly which variety it is, we do know for certain the variety colloquially called Sidra in Ecuador is an Ethiopian Landrace variety. Ethiopia is widely acknowledged as the geographic origin of coffee. DNA testing has confirmed over 60 distinct varieties growing in Ethiopia, making it home to the most coffee biodiversity in the world. How these Ethiopian varieties have made their way to various parts of the world varies wildly, and is the focus of much research and debate. Given climate change and the increasing difficulty to grow coffee, there is also a lot of research being done to develop new varieties and hybrids, usually starting with Ethiopian Landrace germ-lines.

Pricing Details
Farm Gate (Local)
3.98MM COP/CARGA
Farm Gate (USD)
~$10.66/KG
FOB
$13.30/KG
FOT
$17.80/KG
The cost of getting a coffee from cherry to beverage varies enormously depending on its place of origin and the location of its consumption. The inclusion of price transparency is a starting point to inform broader conversation around the true costs of production and the sustainability of specialty coffee as a whole.