Esnaider Ortega
LA ESPERANZA
YELLOW CATURRA - WASHED
Colombia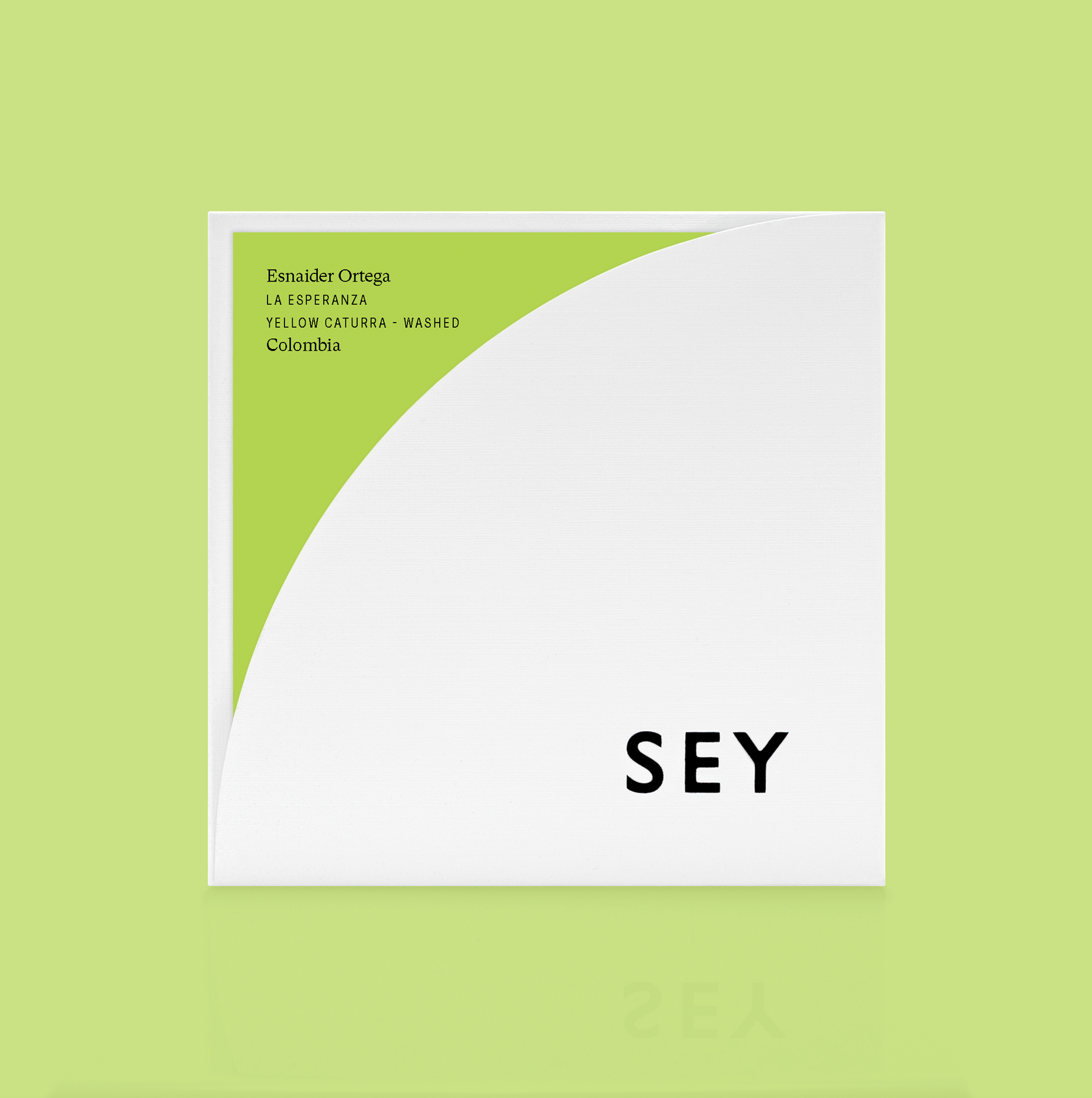 Esnaider Ortega
LA ESPERANZA
YELLOW CATURRA - WASHED
Colombia
This is one of the smallest coffee gardens we buy from. This is a .25 hectare (.6 acre) lot of pure Yellow Caturra. The attention to detail and dedication to quality Esnaider has for his coffee is truly unique and special. In the cup we find a jam-like berry sweetness, a fresh lemon zest acidity, and a soft delicate florality.
Region
San Agustín, Huila
Harvest
Main; February, 2022
Processing
Hand picked at peak ripeness. Floated to remove defects, and hand sorted to further remove immature cherries. Held in cherry for 13 hours. Depulped the following morning, then dry fermented in oak barrels for 36 hours. Rinsed four times, then left in plastic bags to drain for 17 hours. Dried on shaded raised beds for 15 days.
ABOUT ESNAIDER ORTEGA
Esnaider is a dear friend, and an amazing coffee producer. We are very excited to have his Sidra again this season. This lot is extremely small; grown, harvested, and processed with extreme care and attention to detail. This is our third year working with Esnaider and his family, and we are proud and honored to have the opportunity to roast and present their coffees.
"I am a fourth generation coffee producer. I am convinced that working with specialty coffee is the solution for the difficulty in Colombia since the quality of our coffee is reflected in a better quality of life. My family and I are a team, and we have been working with passion and dedication for more than 12 years to continue improving our quality."
ABOUT CATURRA
Caturra is a natural mutation of the Bourbon variety. It was discovered on a plantation in the state of Minas Gerais in Brazil sometime between 1915 and 1918. Today, it is one of the most economically important coffees in Central America, to the extent that it is often used as a benchmark against which new cultivars are tested. In Colombia, Caturra was thought to represent nearly half of the country's production before a government-sponsored program beginning in 2008 incentivized renovation of over three billion coffee trees with the leaf rust resistant Castillo variety (which has Caturra parentage).

Pricing Details
Farm Gate (Local)
2.8MM COP/CARGA
Farm Gate (USD)
~$7.20/KG
FOB
$8.58/KG
FOT
$12.33/KG
The cost of getting a coffee from cherry to beverage varies enormously depending on its place of origin and the location of its consumption. The inclusion of price transparency is a starting point to inform broader conversation around the true costs of production and the sustainability of specialty coffee as a whole.