Nadeia Guerra x Lost Origin 001_001
JARAMILLO
GESHA - WASHED
Panama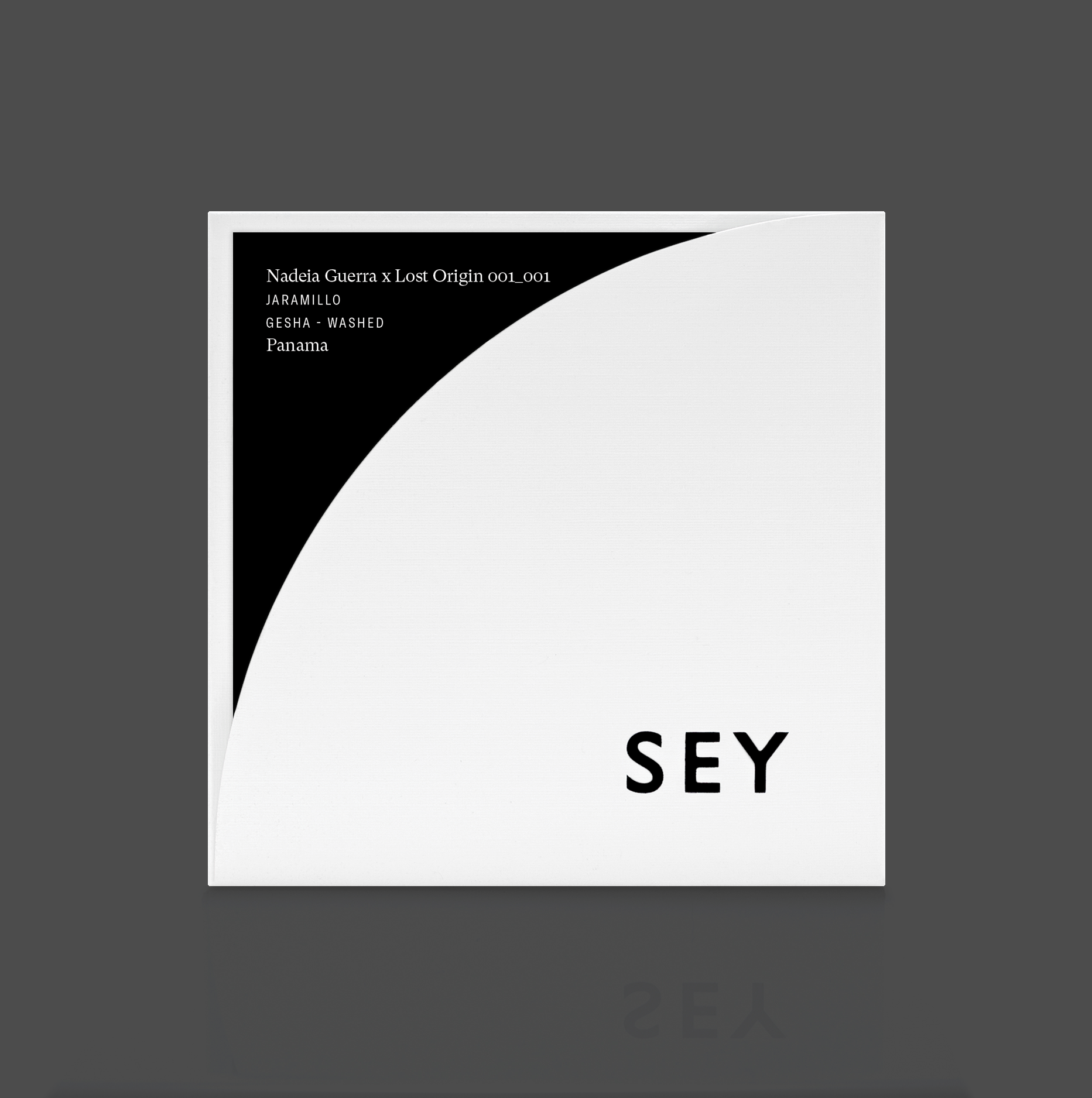 Nadeia Guerra x Lost Origin 001_001
JARAMILLO
GESHA - WASHED
Panama
This is the debut lot of the 'makers' project; a collaboration between Lost Origin and producer Nadeia Guerra. This lot was meticulously processed in a laboratory from only the very best cherry selections. In the cup we find an intoxicating floral profile of jasmine, lavender, and star fruit.
REGION
Jaramillo Arriba, Boquete
PROCESSING
Hand-picked at peak ripeness. De-pulped without water 18 hours after picking. Placed inside custom temperature-controlled and hermetically-sealed fermentation vessels. Inoculated with Lactobacillus Plantarum and Kveik Voss at 25 degrees Celsius. Agitated to ensure homogeneous fermentation conditions. Cold crashed after 24 hours to 10 degrees Celsius to slow the fermentation process. Decanted and washed after another 24 hours. Placed on individual drying trays in batches of 5kg, and dried in a room controlled for temperature, humidity, airflow, and air quality for 23 days.
ABOUT NADEIA GUERRA
Nadeia is a very young producer who has taken over the management of her small farm in the mountains of Boquete. Finca Jaramillo is an entirely woman-owned and operated farm that produces 70% Typica, 25% Caturra, and 5% Gesha. This is the Gesha selection.
ABOUT LOST ORIGIN
Lost Origin is an exciting new enterprise in its first year of operation. It is essentially a coffee 'makers' project whose members buy cherry from producers and do their processing in a lab. This is, to our knowledge, the most advanced and sophisticated project of its kind, and we are humbled and honored to have the opportunity to work with their inaugural lot. Though we pride ourselves on sourcing immaculate washed coffees that are pure representations of 'terroir,' we also believe there is still much to be learned in this pursuit. We're beyond excited to see where this project leads us.
ABOUT GESHA
Gesha was originally collected from coffee forests of Ethiopia in the 1930's. From there, it was sent to the Lyamungo Research Station in Tanzania, and then brought to Centro Agronómico Tropical de Investigación y Enseñanza (CATIE) in Central America in the 1953, where it was logged as accession T2722. It was distributed throughout Panama via CATIE in the 1960's after its tolerance to coffee leaf rust was recognized. However, it was not widely planted because the plant's branches were brittle and not favored by farmers. Gesha came to prominence in 2005, when the Peterson family of Boquete, Panama, entered it into the Best of Panama competition and auction. It received exceptionally high marks and broke the then-record for green coffee auction prices, selling for over $20 per pound. Since then, the variety has become a resounding favorite of brewing and roasting competition winners and coffee enthusiasts alike.

Pricing Details
Direct
$132.00/KG
The cost of getting a coffee from cherry to beverage varies enormously depending on its place of origin and the location of its consumption. The inclusion of price transparency is a starting point to inform broader conversation around the true costs of production and the sustainability of specialty coffee as a whole.