Mutwewathi AA
FIELD BLEND - WASHED
Kenya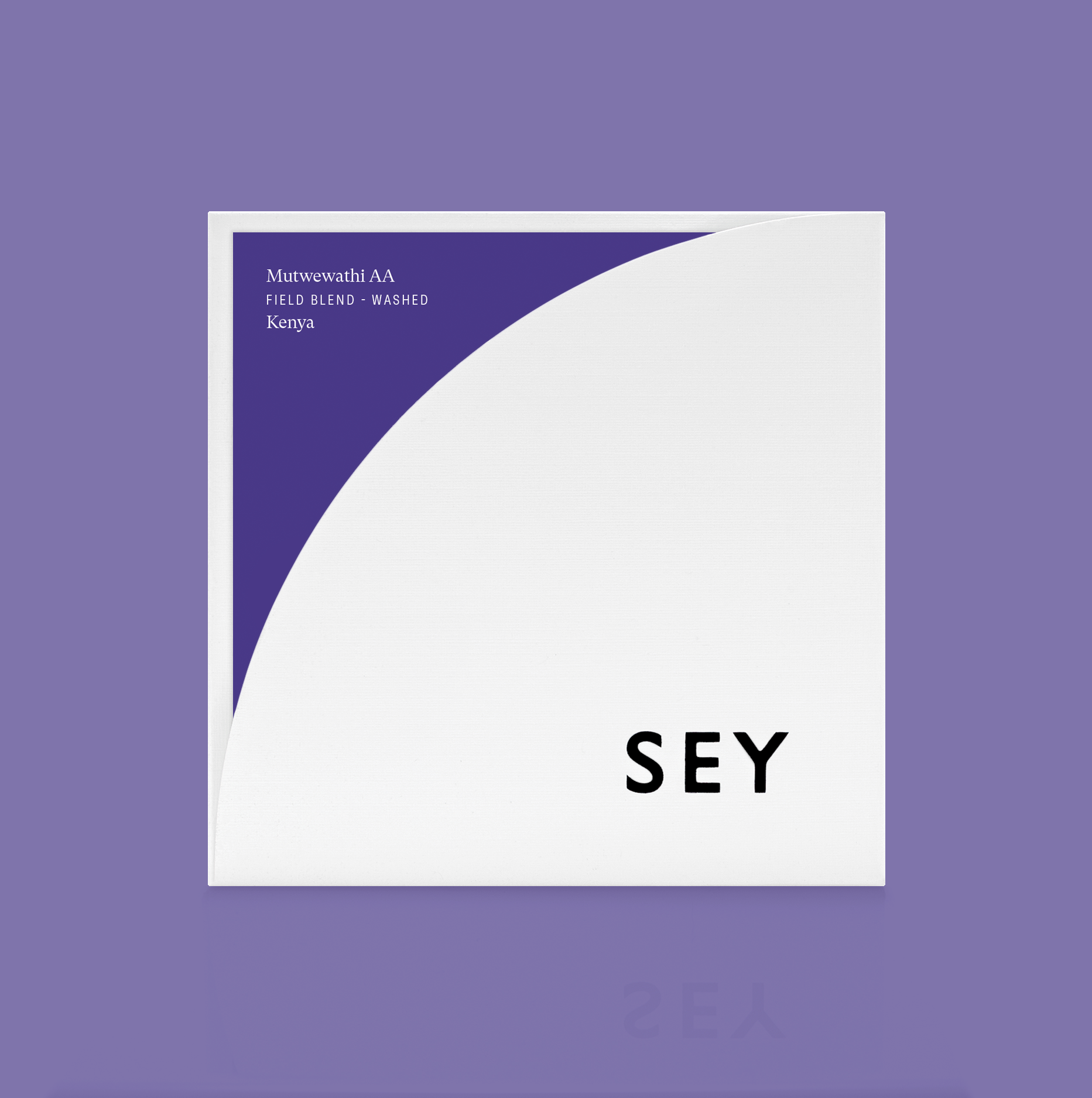 Mutwewathi AA
FIELD BLEND - WASHED
Kenya
This Kenyan selection comes from a 489-member cooperative high up on the slopes of Mt. Kenya in the famed region of Nyeri. In the cup we find intense aromatics, classic Kenyan acidities of red currant and raspberry, and a red wine-like complexity.
VARIETAL
SL28, SL34, Ruiru 11, Batian
REGION
Murmurwe-ini, Nyeri
PROCESSING
Hand picked at peak ripeness. Floated to further remove defects and depulped on the day of harvest. Dry fermented for 12 hours. Dried on raised beds for 15 days.
ABOUT MUTWEWATHI AA
Our journey of buying coffees from Kenya continues. Kenya is a difficult place to work in not only because of its distance from New York, but also the complicated structure of the Kenyan coffee industry itself. The coffees available to purchase directly from single estates are generally lower quality than those we encounter from the larger cooperatives, but working with the co-ops creates its own issues of transparency, traceability, and the impossibility of making meaningful partnerships and investments towards better coffee, soil health, and farming practices. This particular co-op has 489 members, each of whom has an extremely small farm averaging about half a hectare (1.2 acres). Despite all of its challenges, Kenya continues to produce some of the most dynamic and complex coffees in the world, and we'll continue trying to evolve how we work in this special country as the years continue.

ABOUT SL28, SL34, Ruiru 11, Batian
"SL" is in reference to single tree selections made by Scott Agricultural Laboratories in 1935-1939. SL34 has a Typica-like genetic background selected from a single tree on the Loresho Estate in Kabete, Kenya. SL28 is of the Bourbon genetic group, and was selected for its drought resistance as well as its extremely high cup quality. SL28 is one of the most well-known and well-regarded varieties in Africa. It has consequently spread from Kenya to other parts of Africa as well as Central and South America. Both varieties are non-hybrid, and very susceptible to disease.

Ruiru 11 is a Catimor hybrid that owes its existence to a coffee berry disease epidemic in 1968 that lead to the loss of 50% of Kenya's production. The crisis sparked action. In the 1970s, the coffee research station at Ruiru—which gives Ruiru 11 its name—began an intensive breeding program of varieties that are immune to coffee berry disease, ultimately leading to the release of Ruiru 11 in 1985.

Batian is resistant to both leaf rust and coffee berry disease. It was created via single-tree selections from fifth filial (F5) generations from the male parent of some Ruiru 11 progenies. Batian is a composite variety, mixing three different pure line varieties. The varieties involved in the original crosses are: SL28, SL34, Rume Sudan, N39, K7, SL4 and the Timor Hybrid.

Pricing Details
Farm Gate (Local)
882.62 KES/KG
Farm Gate (USD)
~$8.19/KG
FOB
$10.35/KG
FOT
$13.00/KG
The cost of getting a coffee from cherry to beverage varies enormously depending on its place of origin and the location of its consumption. The inclusion of price transparency is a starting point to inform broader conversation around the true costs of production and the sustainability of specialty coffee as a whole.