Peterson & Purity Muthathai
NGARATUA ESTATE - AA SEPARATION
FIELD BLEND - WASHED
Kenya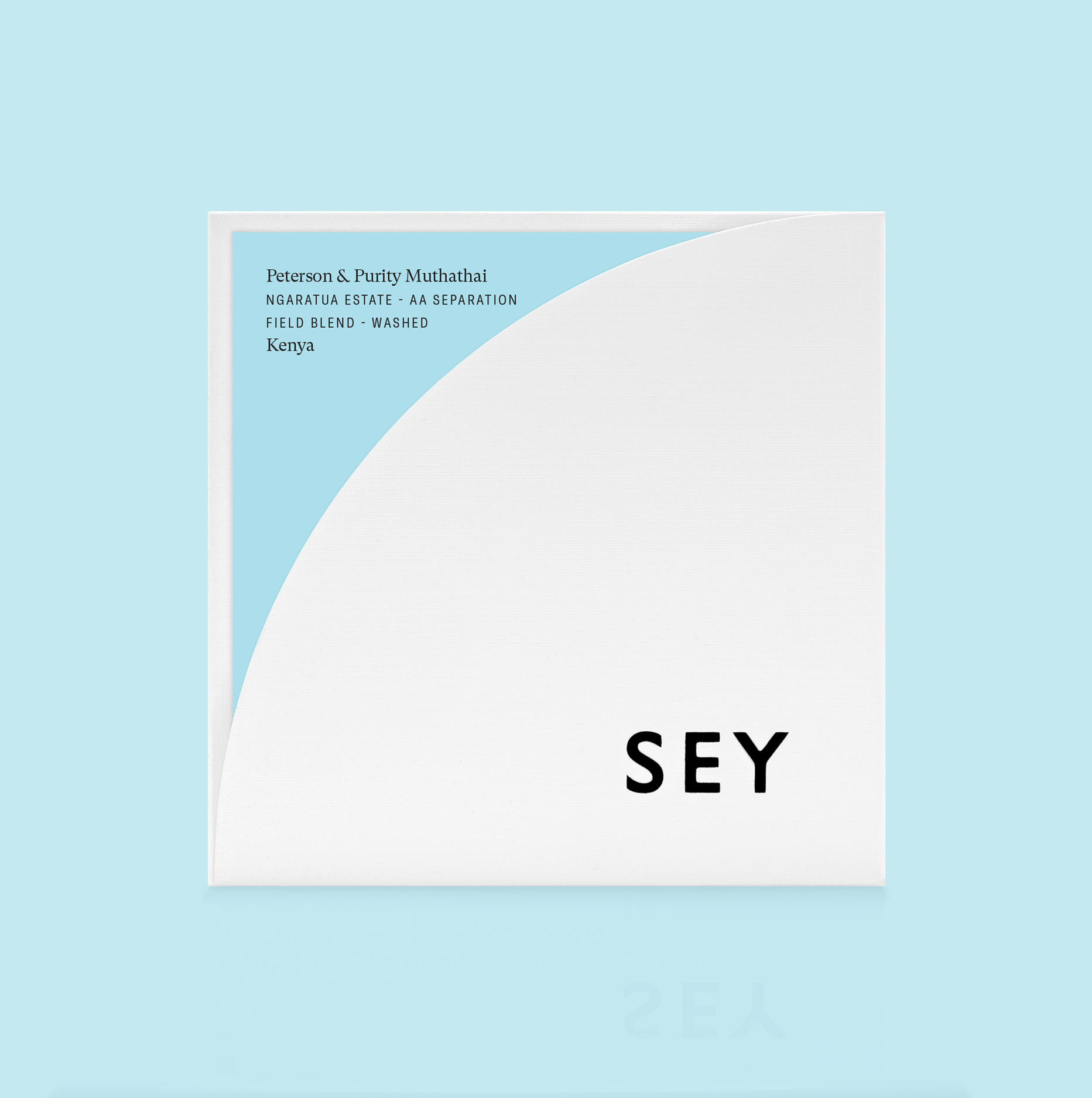 Peterson & Purity Muthathai
NGARATUA ESTATE - AA SEPARATION
FIELD BLEND - WASHED
Kenya
Ngaratua consistently produces complex and dynamic profiles, and has quickly become one of our favorite farms to work with in Kenya. This lot is essentially pure SL28, and sings of dark fruits and citrus, with a subtle florality as well.
VARIETAL
98% SL28, 1.5% Ruiru, .5% Gesha
PROCESSING
Hand-picked at peak ripeness. Floated to further remove defects. Depulped. Fermented for 24 hours. Washed. Dry fermented for an additional 12-24 hours. Washed. Soaked in tanks for 12-18 hours. Dried on raised beds until moisture content reaches ~10.5%.
ABOUT PETERSON & PURITY MUTHATHAI
Ngarutua Estate was established in the 1940's, when Kenya was still part of the British Empire. It was named after its founder: Paul Muthathai Ngarutua. The first coffee was planted in 1958, when it became legal for Africans to plant coffee; however, the ten-acre farm was legally limited to a maximum of 100 trees. That rule was lifted around 1960, and more trees were planted in the 60's and early 70's. The farm was passed on to Paul's wife, Dina Mukami Muthahai, who then passed it on to her son Peterson and his wife Purity. After university, Peterson—now the current Director of The Kenya Planters Cooperative Union representing the Mount Kenya region—and his wife fully took on the farm operations. They have invested heavily in the planting of more SL28 trees, and are currently saving to build better drying tables. They are highly motivated producers, and it is an honor to roast their coffee.
ABOUT SL28
"SL" is in reference to single tree selections made by Scott Agricultural Laboratories in 1935-1939. SL28 is of the Bourbon genetic group, and was selected for its drought resistance as well as its extremely high cup quality. SL28 is one of the most well-known and well-regarded varieties in Africa. It has consequently spread from Kenya to other parts of Africa as well as Central and South America. SL28 is non-hybrid, and very susceptible to disease.

Pricing Details
Farm Gate (USD; GREEN)
$9.40/KG
FOB
$10.50/KG
FOT
$11.60/KG
The cost of getting a coffee from cherry to beverage varies enormously depending on its place of origin and the location of its consumption. The inclusion of price transparency is a starting point to inform broader conversation around the true costs of production and the sustainability of specialty coffee as a whole.