PEPE ARGUELLO
Santa Cruz
FIELD BLEND - WASHED
Mexico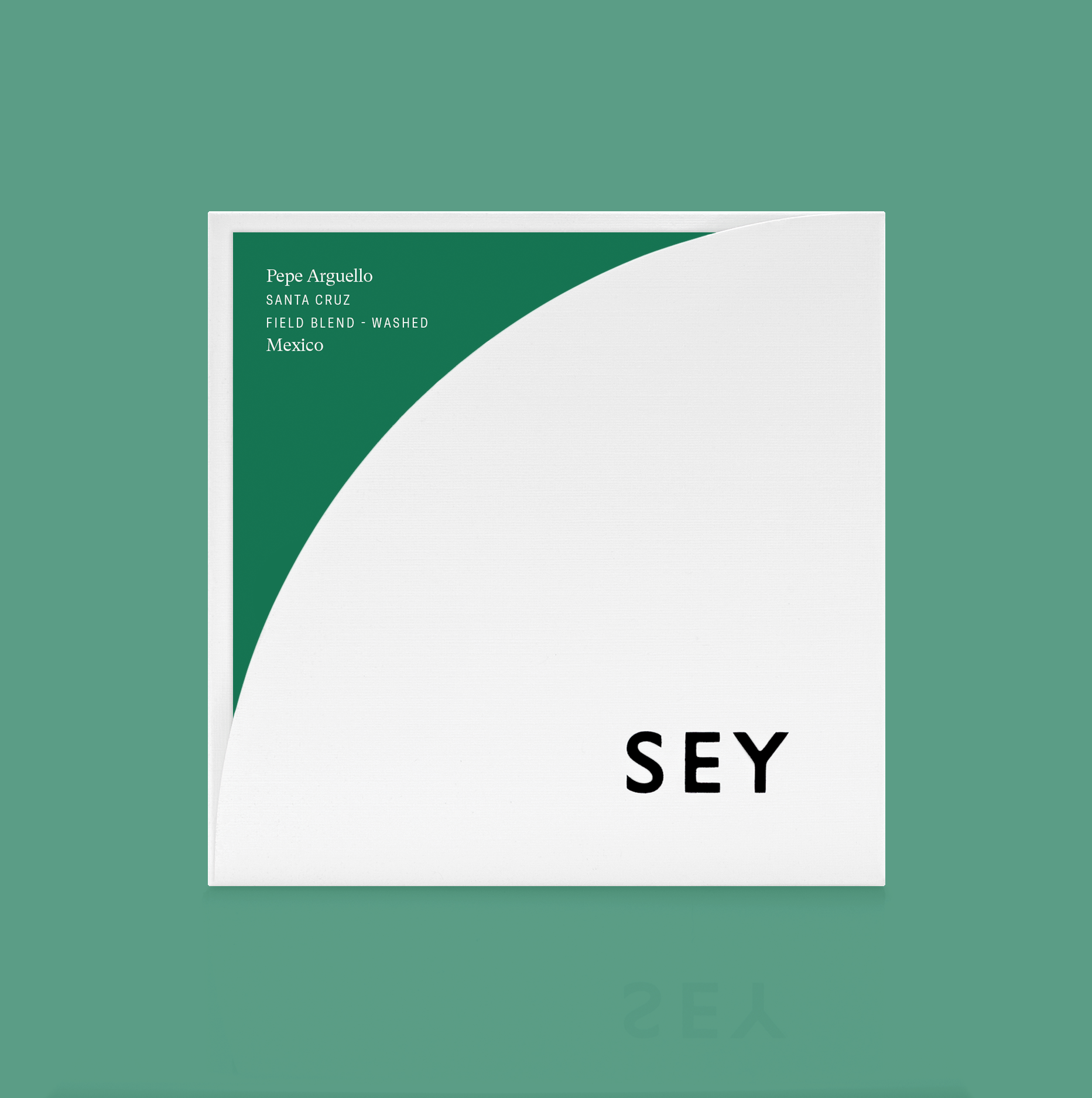 PEPE ARGUELLO
Santa Cruz
FIELD BLEND - WASHED
Mexico
Our first Mexican offering of the year comes from the mountainous state of Chiapas in the south of Mexico. Pepe is a remarkable young producer, winning the COE last year. In the cup we find purple fruits, a deep nougat sweetness, and a complex yet balanced acidity.
Varietal
Bourbon, Typica, Yellow Caturra, Gesha
Region
La Concordia, Chiapas
Processing
Hand picked at peak ripeness. Floated to further remove defects and depulped on the day of harvest. Dry fermented for 20-72 hours. Dried on raised beds until moisture content reaches approximately 10.5%.
ABOUT PEPE ARGUELLO
Pepe Arguello is a very cool, young producer. His farm, Finca Santa Cruz, is already achieving widespread notoriety after only three years of production. When Pepe decided to purchase Finca Santa Cruz he immediately decided to build it around producing specialty coffee. With land at 1,700 masl on the Triunfo Biosphere Reserve, his farming practices reflect his desire for a more precise, agronomically advanced, and conservation-focused approach. He is meticulous with his farming and processing practices, and invests heavily in the biodiversity of the land.
ABOUT THIS FIELD BLEND
Bourbon is the most famous of the Bourbon-descended varieties. It is a tall variety characterized by relatively low production and excellent cup quality, but is susceptible to all the major coffee plant diseases.




Caturra is a natural mutation of the Bourbon variety. It was discovered on a plantation in the state of Minas Gerais in Brazil sometime between 1915 and 1918. Today, it is one of the most economically important coffees in Central America, to the extent that it is often used as a benchmark against which new cultivars are tested.




Typica reached Brazil in the early 1700's, and quickly spread throughout most of Central and South America. Until the 1940's, the majority of coffee plantations in Central America were planted with Typica. However, because this variety is both low yielding and highly susceptible to major coffee diseases, it has gradually been replaced across much of the Americas with Bourbon varieties such as Caturra, Catuai, and also hybrids.




Gesha was originally collected from coffee forests of Ethiopia in the 1930's. From there, it was sent to the Lyamungo Research Station in Tanzania, and then brought to Centro Agronómico Tropical de Investigación y Enseñanza (CATIE) in Central America in the 1953, where it was logged as accession T2722. It was distributed throughout Panama via CATIE in the 1960's after its tolerance to coffee leaf rust was recognized. However, it was not widely planted because the plant's branches were brittle and not favored by farmers. Gesha came to prominence in 2005, when the Peterson family of Boquete, Panama, entered it into the Best of Panama competition and auction. It received exceptionally high marks and broke the then-record for green coffee auction prices, selling for over $20 per pound. Since then, the variety has become a resounding favorite of brewing and roasting competition winners and coffee enthusiasts alike.
Pricing Details
Farm Gate
$6.93/KG
FOB
$7.49/KG
FOT
$10.45/KG
The cost of getting a coffee from cherry to beverage varies enormously depending on its place of origin and the location of its consumption. The inclusion of price transparency is a starting point to inform broader conversation around the true costs of production and the sustainability of specialty coffee as a whole.