Ticuna
FIELD BLEND - LACTO-FERMENTED & WASHED
Colombia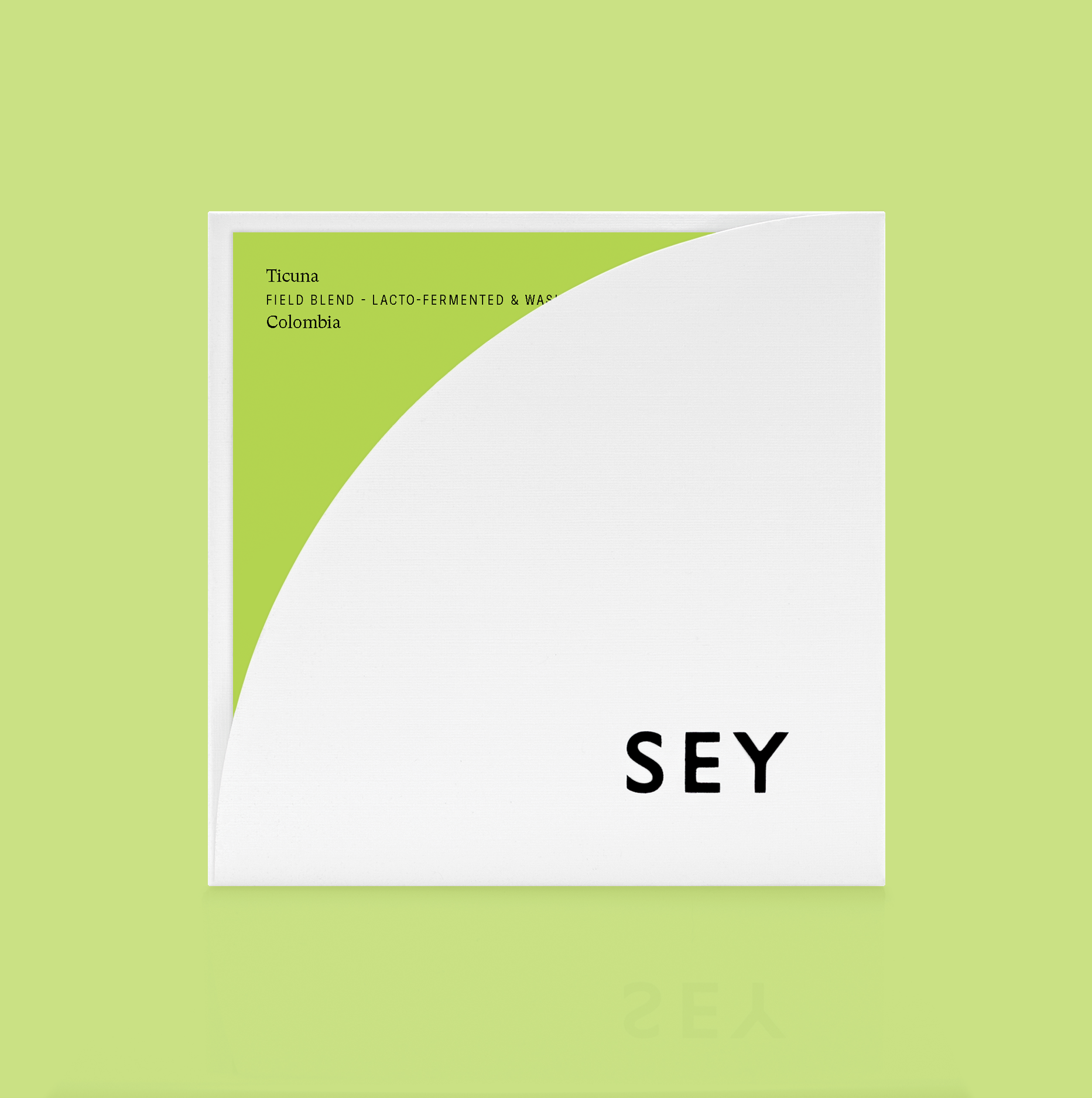 Ticuna
FIELD BLEND - LACTO-FERMENTED & WASHED
Colombia
It is a rare and fun occurrence to taste all of these profiles together. This year's production was small, and there wasn't enough of each variety to export, so we created this super blend. The result is a deep, almost jam-like sweetness with currant, pink grapefruit, and subtle orange blossom.
VARIETAL
Pink Bourbon, Gesha, SL28
REGION
Las Mercedes, Garzón, Huila
ALTITUDE
1,900 - 2,020 masl
PROCESSING
Hand picked at peak ripeness. Floated to further remove defects. Submerged in 2% salt water solution for 24 hours in order to kill pathogens while promoting growth of the salt-tolerant bacteria Lactobacillus. De-pulped. Dry fermented in parchment for 24 hours. Washed. Dried on shaded raised beds until moisture content reaches ~10%.
ABOUT TICUNA
We have watched since the beginning as this project has developed and grown. Not only is it difficult to produce coffee of this quality, but the varieties Kyle and José have chosen to work with are among the most difficult varieties to grow anywhere. Ticuna is quite literally a dream come true for anyone that is interested in terroir and varieties. We look forward to the coming season when we very much hope the yields will be high enough to separate these varieties!
ABOUT PINK BOURBON
Pink Bourbon is a variety known for the complexity of its acidity and fruit characteristics. The physical look of the seeds and plant, along with its rather distinct flavor profile, point towards it being some sort of Ethiopian Landrace variety. However, to our knowledge Pink Bourbon has not yet been genetically tested, so we cannot say with certainty what exactly it is. Working with our partners at World Coffee Research we hope to have this variety tested in the near future.
ABOUT SL28
SL28 is of the Bourbon genetic group, and was selected for its drought resistance as well as its extremely high cup quality. SL28 is one of the most well-known and well-regarded varieties in Africa. It has consequently spread from Kenya to other parts of Africa as well as Central and South America. As a non-hybrid, it is very susceptible to disease.
ABOUT GESHA
Gesha was originally collected from coffee forests of Ethiopia in the 1930's. From there, it was sent to the Lyamungo Research Station in Tanzania, and then brought to Centro Agronómico Tropical de Investigación y Enseñanza (CATIE) in Central America in the 1953, where it was logged as accession T2722. It was distributed throughout Panama via CATIE in the 1960's after its tolerance to coffee leaf rust was recognized. However, it was not widely planted because the plant's branches were brittle and not favored by farmers. Gesha came to prominence in 2005, when the Peterson family of Boquete, Panama, entered it into the Best of Panama competition and auction. It received exceptionally high marks and broke the then-record for green coffee auction prices, selling for over $20 per pound. Since then, the variety has become a resounding favorite of brewing and roasting competition winners and coffee enthusiasts alike.

Pricing Details
Farm Gate (Local; Green)
4.5MM COP/Carga
Farm Gate (USD; Green)
~$9.57/KG
FOB
$10.45/KG
FOT
$13.76/KG
The cost of getting a coffee from cherry to beverage varies enormously depending on its place of origin and the location of its consumption. The inclusion of price transparency is a starting point to inform broader conversation around the true costs of production and the sustainability of specialty coffee as a whole.