Wilmer Galindez
NAPOLES
PINK BOURBON & TABI - WASHED
Colombia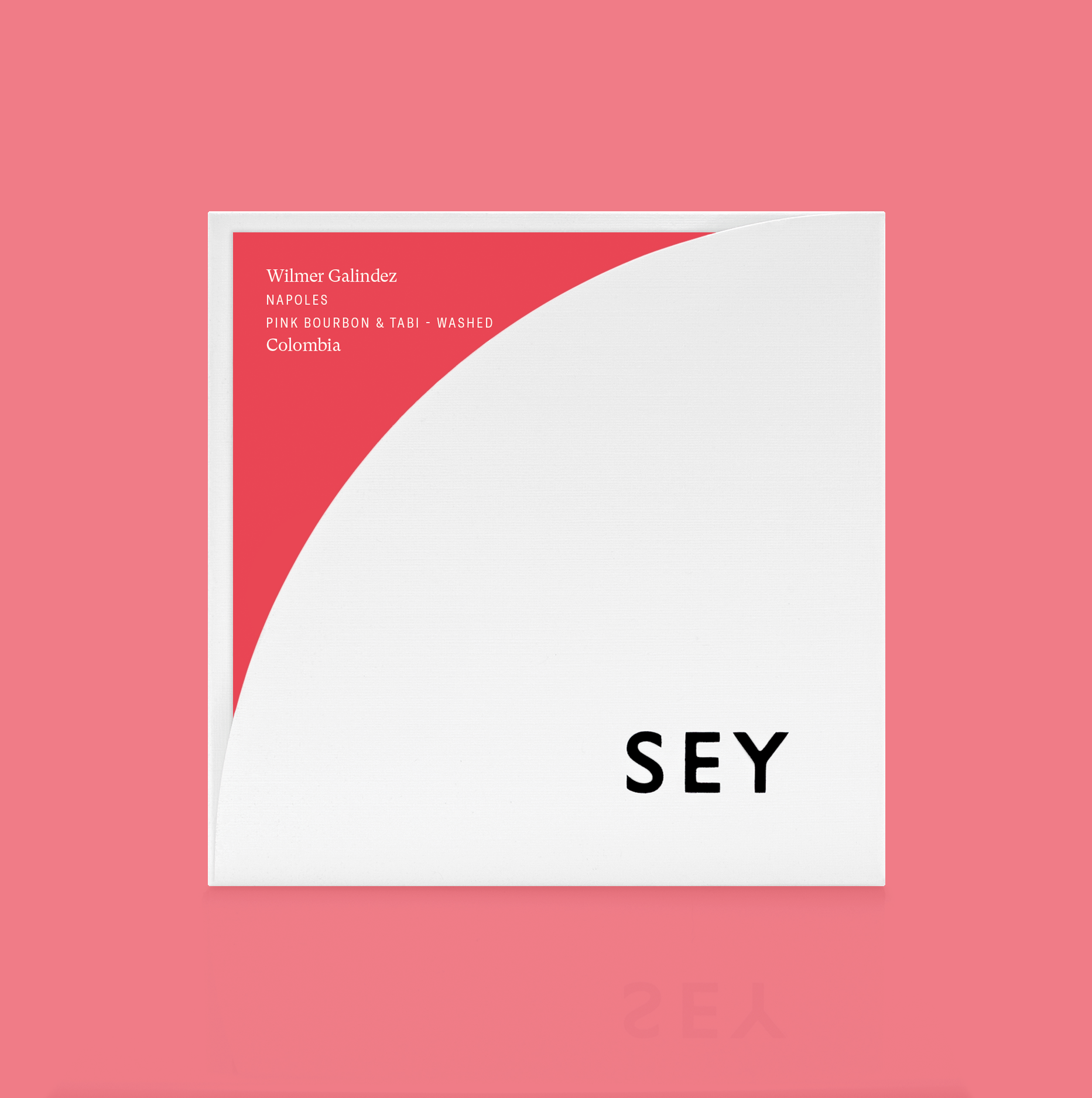 Wilmer Galindez
NAPOLES
PINK BOURBON & TABI - WASHED
Colombia
This is our third year working with this young and inspiring producer, and he continues to show so much potential. This selection is a blend of his Pink Bourbon and Tabi varieties. In the cup we find pink lemonade, strawberry, and rose.
VARIETAL
Pink Bourbon & Tabi
REGION
San Agustín, Huila
PROCESSING
Hand-picked at peak ripeness. Floated to further remove defects. Depulped immediately after harvest. Dry fermented for 38 hours. Dried on raised beds for 22 days.
ABOUT WILMER GALINDEZ
Wilmer's heartfelt story is a joy to tell. A handful of years ago, when Wilmer was only 20, his mom and sister abandoned the family farm due to debts incurred following the passing of Wilmer's father. Wilmer stayed behind, and within three years, had recuperated the farm and paid back almost all of the debts his family owed. His mother and sister then returned to the farm and requested that Wilmer return it to their possession. Despite all the work he had put in, he accepted their request. Taking on personal debt, Wilmer purchased a small three-hectare (~7.4 acres) lot a few hundred meters from his family's original farm. This plot was relatively untouched mountain jungle that he, over the next four years, cultivated and planted 3,000 trees of San Bernardo, 1,700 trees of Pink Bourbon, and 2,000 trees of Tabi. It is an honor to be the first roaster to have brought his coffees to the international market.

ABOUT PINK BOURBON
Pink Bourbon is a variety known for the complexity of its acidity and fruit characteristics. The physical look of the seeds and plant, along with its distinct flavor profile, point towards it being an Ethiopian Landrace variety. However, to our knowledge Pink Bourbon has yet to be genetically tested, so we cannot say with certainty what exactly it is. Working with our partners at World Coffee Research, we hope to have this variety tested soon.
ABOUT TABI
Tabi is a newer hybrid to the scene, having been developed in 2002. It is a cross between Bourbon, Typica, and Timor Hybrid. Tabi was developed as a part of the research to create a variety that is disease resistant while maintaining good cup quality. Over the last few years, this has become our favorite hybrid variety because it provides producers with an excellent disease-resistant choice while also having a very high cup quality potential.

Pricing Details
Farm Gate (Local; Green)
3.05MM COP/Carga
Farm Gate (USD; Green)
~$6.67/KG
FOB
$8.23/KG
FOT
$13.10/KG
The cost of getting a coffee from cherry to beverage varies enormously depending on its place of origin and the location of its consumption. The inclusion of price transparency is a starting point to inform broader conversation around the true costs of production and the sustainability of specialty coffee as a whole.